The Donnie W. Brown Chapter was chartered in July, 1996.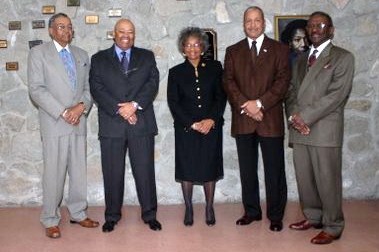 Tpr Ward** Tpr Green**Tpr Mackey**Tpr Morgan**Tpr Rhodes
---
---
---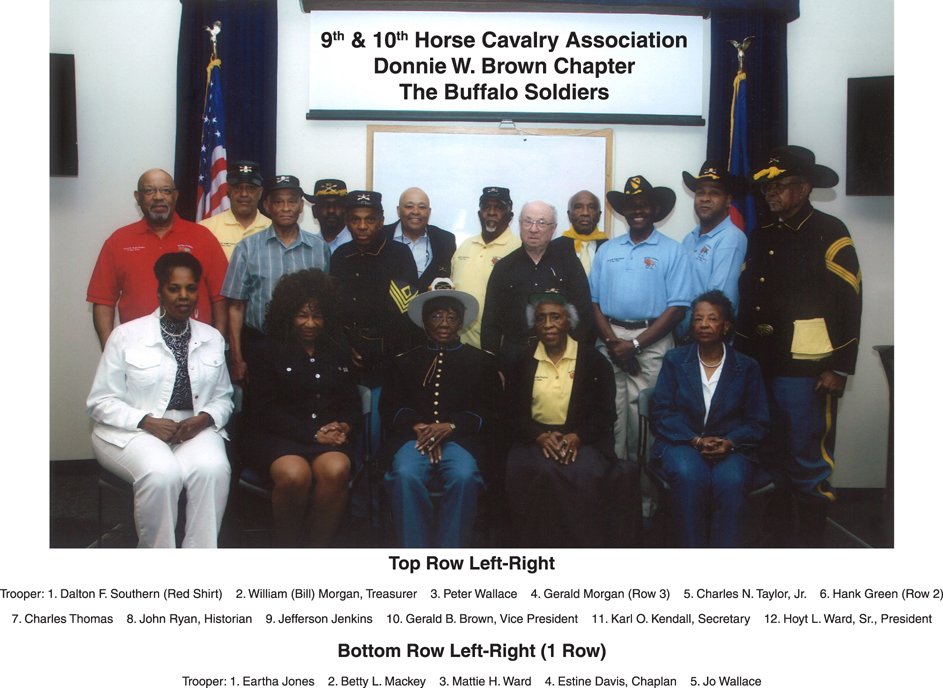 When the Plains Indians first saw the men of the 10th Cavalry wearing with their dark skins, curly hair and wearing fur overcoats they likened them to Buffaloes. The nickname "Buffalo Soldiers" was originally given to the 10th Cavalry by Cheyenne warriors out of respect for their fierce fighting in 1867. The Cheyenne Native American term used was actually "Wild Buffaloes", and the Commanche term was "Crazy Buffaloes" which was translated to "Buffalo Soldiers." In time, all African American Soldiers became known as "Buffalo Soldiers." Despite second-class treatment these soldiers made up first-rate regiments of the highest caliber and had the lowest desertion rate in the Army.






2017 Black History Month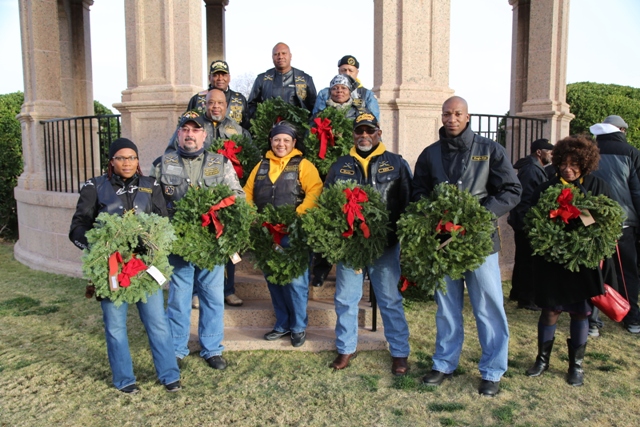 Thanks go out to all of the Buffalo Soldiers
who came out and participated in the Wreath Laying
Ceremony at Fort Bliss National Cemetery honoring
those "Buffalo Soldiers" who are interred in the
cemetery. Thanks to all of the members of Donnie W. Brown
and the Motorcycle Club for supporting the special endeavor.
Trooper Hank Green-President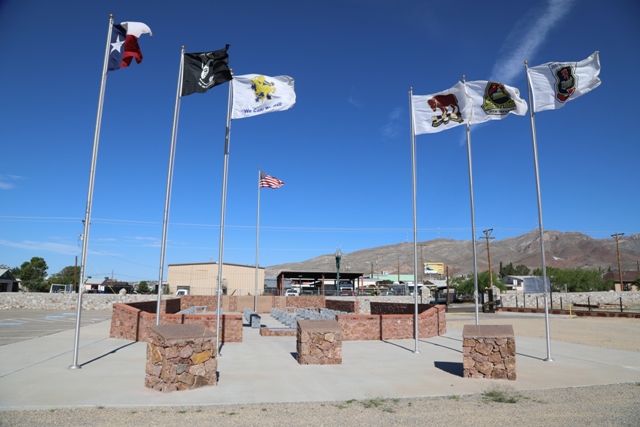 2017 photo of Buffalo Soldiers at Concordia Cemetery, El Paso, Texas


150th Reunion, Houston, Texas
July, 2016
Click here for photos




National President Visits
Click here for photos




2016 Installation
Click here




10th (Horse) Cavalry
Camp Lockett, California, 1940

Release of 10th Cavalry - prisoner exchange El Paso, Texas, July 1, 1916


Colored Troops disembark. Buffalo Soldiers march to war, 1898

Film clips courtesy of The Film Archive and Critical Past



Buffalo Soldier Memorial Restoration Project
Click here for photos



Major Guy V. Henry's Great Cavalry Ride


San Elizario Buffalo Soldier Statue


2014 Chapter Review

2015National Reunion


---
---
---
Fort Davis, Texas
The Ninth Cavalry initially saw action in Texas with Companies C, F, H and I reoccupying the abandoned Fort Davis on June 29, 1867, The first home of the Tenth Cavalry was Fort Leavenworth, Kansas. After seeing duty in Kansas, Oklahoma and Colorado, the regiment came to Texas in 1875. Black troops, including elements of the 24th & 25th Infantry Regiments served at Fort Davis from 1867 to 1885, having a significant impact on Texas history.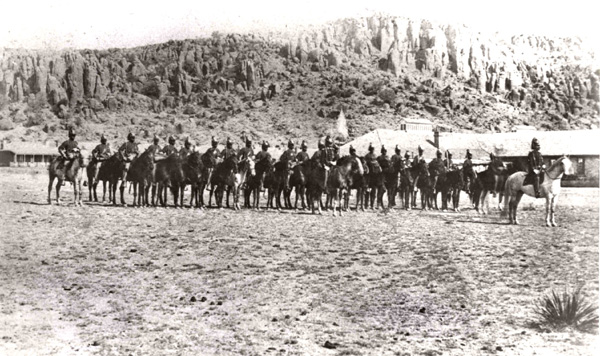 Ninth Cavalry on Parade Field at Fort Davis - 1875
(Photo courtesy of the National Park Service)
---
---
---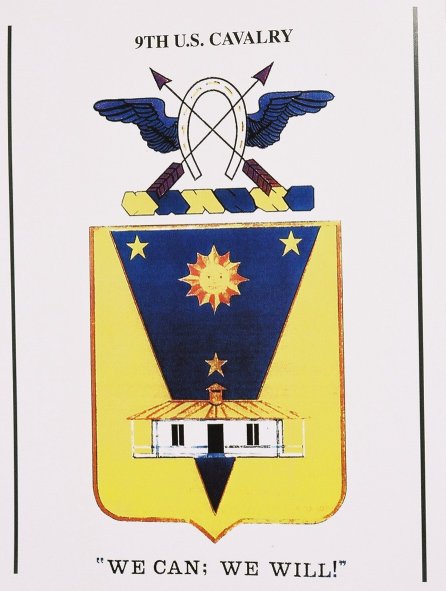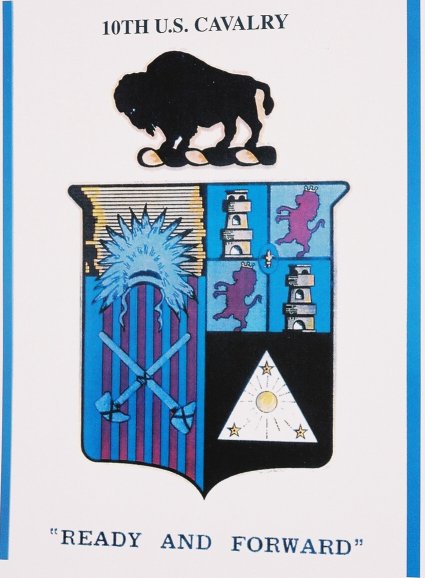 (left) Regimental Coat of Arms for the 9th Cavalry

(right) Regimental Coat of Arms for the 10th Cavalry

---
---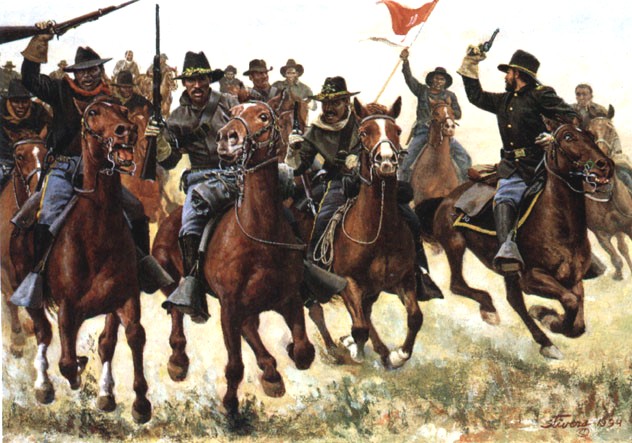 Troops B and H,Tenth Cavalry led by Captain Louis H. Carpenter at the Battle of Rattlesnake Springs,
Texas August 6, 1880. Rattlesnake Springs is 40 miles north of present day Van Horn, Texas.
(Publication of Don Stivers Limited Edition Print images done so with the permission of Don Stivers)
---
---
The Buffalo Soldiers were led by Officers who were Civil War veterans. The closeness and dangerousness of their many patrols forged the type of bond that develops between men with shared combat experience. An example of such experience is evidenced in this account by Lieutenant John Bigelow, 10th Cavalry, of action against Victorio's Eastern Chiricahua Apaches on August 6, 1880 at Rattlesnake Springs, Texas. "On the 30th of July Colonel Grierson, with a party of only six men, was attacked by this band between Quitman and Eagle Springs. Lieutenant Finley with fifteen men of Troop G came up, engaged the Indians, and held them in check until the arrival of Captains Viele and Nolan with Troops C and A. In an engagement, which lasted four hours, seven Indians were killed and a number wounded. On the side of the troops one soldier was killed and Lieutenant Colladay wounded. The hostiles were driven off and pursued to the Rio Grande. In the course of the pursuit a running fight of at least fifteen miles was maintained near the Alamo by a detachment under Corporal Asa Weaver of Troop H. Private Tockes, Troop C, was killed. His horse went to bucking and then ran directly into the Indians. When last seen alive this devoted trooper had dropped his reins, drawn his carbine, and was firing to right and left. His skeleton was found months afterwards. For his gallant conduct in this affair Corporal Weaver was promoted to a sergeant on the ground."

In another account re the Battle of San Juan Hill, Cuba, written by Sergeant William Payne, of Troop E, Tenth Cavalry, he stated: "About 6 A.M., July 1st the battle started. We remained at San Juan River about three hours. Then came the advance for the bloody charge up San Juan Hill, which we did in good order. This was the second time we came to the rescue of the Rough Riders. After we drove the enemy from their stronghold we deployed our skirmish line on the hill and awaited orders to commence firing. During this time our brave commander, Captain Charles G. Ayers, had to be begged and finally ordered to kneel or lie down out of danger, for shot and shell were falling all around him. He is the coolest man I ever saw in action."
---
---
---
Buffalo Soldiers in Texas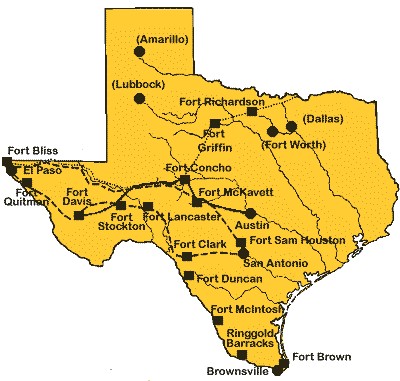 Troopers of the 9th and 10th Cavalry served with honor and distinction in the protection of settlers and stage coaches, stringing of telegraph lines and the mapping and exploration of Texas. The map above shows the many Forts in Texas where Buffalo Soldiers served. Note the heavy concentration of U.S. Army forts along the Rio Grande River.
---
---
2nd Lt Henry Ossian Flipper
FLIPPER, HENRY OSSIAN (1856-1940). Henry Ossian Flipper, engineer, the first black graduate of West Point, the eldest of five sons of Festus and Isabella Flipper, was born a slave at Thomasville, Georgia, on March 21, 1856. He attended school at the American Missionary Association, and in 1873, as a freshman at Atlanta University, he was appointed to the United States Military Academy. Although Flipper was the fifth black accepted to West Point, he was the first to graduate. At West Point he was often ostracized and had little social interaction with white cadets beyond official activities. He graduated fiftieth in a class of seventy-six on June 14, 1877, and accepted a commission as a second lieutenant. Flipper described his successful struggle against ostracism and prejudice in The Colored Cadet at West Point (1878). In January 1878 he was assigned to Company A of the Tenth United States Cavalry.
Commander 9th Cavalry
Col. Edward Hatch was selected to command the new regiment. Hatch, who was a brevet Major General by the close of the Civil War, was an able and ambitious officer. At the Battle of Collierville (Shelby County, Tennessee, Nov 3, 1863), Colonel Hatch, although outnumbered three to one, surprised Brig. Gen. James R. Chalmers, CSA with a cavalry charge that caused the Conferates to call off the battle. Col Hatch commanded a cavalry brigade while BG Chalmers commanded a division. Col. Col Hatch also commanded a Brigade and was gallant in action at Corinth, Mississippi and also as part of Grierson's Raid. Hatch served admirably in U.S. Army until his death in 1889. Sergeant Nathan Fletcher and a detachment of Ninth Cavalry troopers escorted Colonel Hatch's body to Fort Leavenworth, Kansas for burial.
Commander 10th Cavalry
Colonel Grierson was a superb cavalry commander during the Civil War. From April 17-May 2, 1863 he executed what is known as Grierson's Raid. He led 1,700 Union soldiers over 600 miles deep into Confederate territory, wrecking havoc throughout Mississippi with Col Edward Hatch creating highly effective diversion action. Col Grierson attacked the railroad station at Newton Station, Mississippi and then made his way to the Union held Baton Rouge, Louisiana. The John Wayne motion picture "The Horse Soldier's" is loosely based upon this daring raid.
---
---


Concordia Cemetery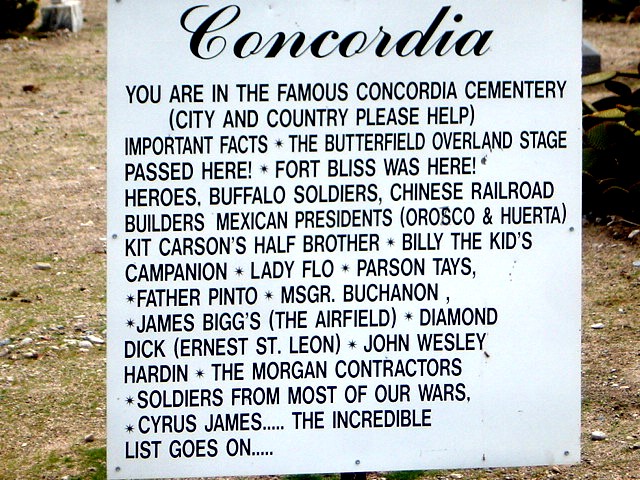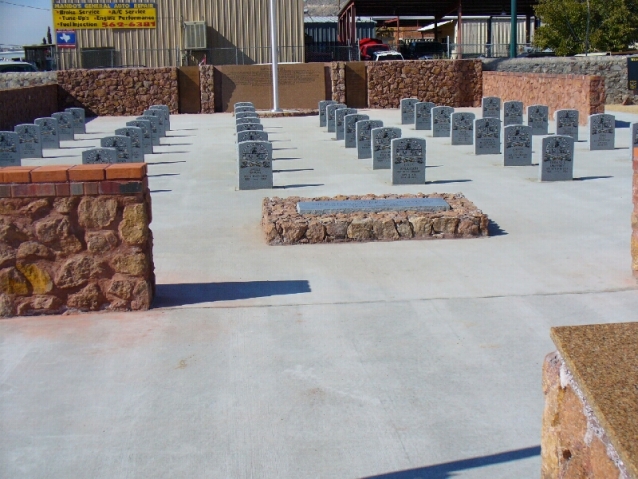 There are 28 Buffalo Soldiers buried at the Concordia Cemetery in El Paso.
Six of those buried there are anonymous heroes, they are unknown soldiers.




Thank You Beth Jones for your efforts at Concordia Cemetery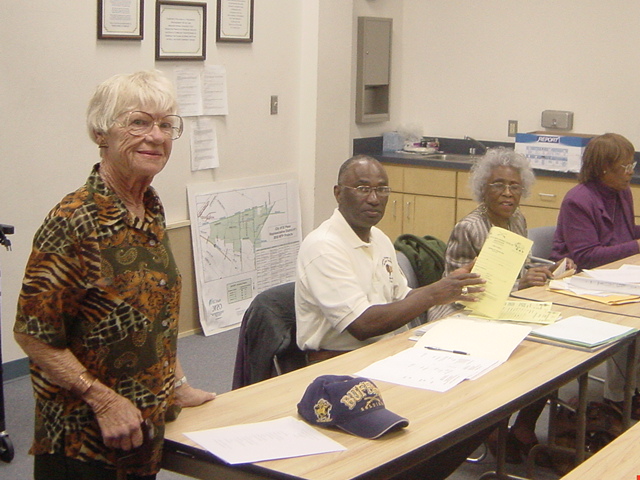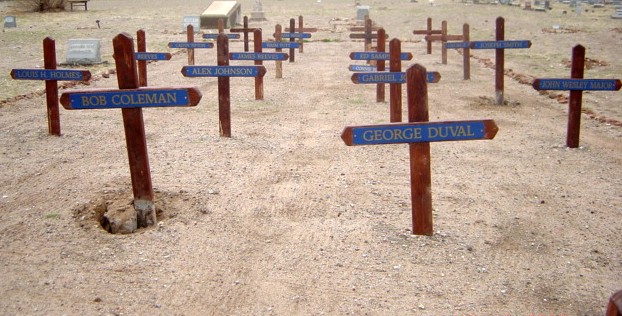 Lest We Forget



E-mail questions, comments and suggestions regarding the webpage to Trooper Hardrick Crawford, Jr. at:
cvbuckeye@aol.com